Our fourth History Marketing Summit: 5 sep 2019 at Nalen in Stockholm. Meet the businesses who actively use their own history to grow. Learn how any organization can use its history as a strategic asset. 
A day for managers, marketers, communicators, lawyers, hr-managers and all entrepreneurs who want to know how history can create value for their business. Plus we'll hand out our first ever Business History Award.
SOLD OUT. WE REGRET WE CANNOT


ACCEPT MORE SIGN-UPS.
Before HMS19, enjoy +30 filmed presentations from our previous conferences. 
Welcome to Nalen, Regeringsgatan 74 in Stockholm. A light breakfast will be served from 08.30. The conference starts at 09.00 and finishes at 17.00, after which a mingle dinner is served.
09:00
Centre for Business History
Anders Sjöman
A company's history builds brands, energizes coworkers and supports change. Not bad for an asset that is created simply from running your business. Anders will talk more about strategic uses of history, or history marketing as it is called, setting a framework for the day.

09:45
Electrolux
Martin von Arronet, SVP Corporate Communications
This year Electrolux turns 100 years. At ever stage, for a full century, the company has kept itself relevant – and this by always developing their customer's daily lives. Learn how Electrolux today uses its history to support its future plans. 
10:45
Mäklarsamfundet: Joakim Lusensky, head of analysis and communication
After World War I, a hot real estate market made many shade figures call themselves "real estate agents". An industry organization was created to protect the trade and develop good practices. This year, the Association of Swedish Real Estate Agents turn 100 – and uses its anniversary to keep developing the trade and the industry. 
11:15
Groth & Co: CEO Mats Lundberg & marketing director Viktor Backemar.
Groth & Co was founded in 1869 as Scandinavia's first patent law firm. When the firm this year turned 150 it wanted to make a splash – but how do you make patents for light bulbs and separators relevant today? And how can a small firm celebrate big? The company's CEO and head of marketing explain. 

11:45
Indiska
Karin Lindahl, CEO and owner
As a management consultant she helped the distressed clothing chain Indiska. She ended up buying the retailer. Where others saw an old company in decline she saw the strength in a long history and solid heritage. Karin explains more about the leap she took.
12:15
Lunch. Served in the foyer.
13:30
Nationwide Building Society
Sara Kinsey, Head of Historical Archives
British mutual financial institution and building society Nationwide has for over 175 helped the British to finance their housing. Today, all decisions are evaluated against seven guiding principles, that has grown from the company's heritage. For every new initiative, the company asks itself what its founder, Mr. Cooper, would say – and then they take the discussion from there.
14:00
Kinnarps: Sibylla Jacobsson, board chairman
Evy and Jarl Andersson founded the office furniture company Kinnarps over 75 years ago. Their daughter, and the company's chairpersona, shares how that heritage is made current and inspiring for the today's 2,300 employees.
14:30
The re-established Maria Zoéga, with researcher Anja Petersen, researcher from Dunkers Kultur­hus and Sofia Anderhall from Zoégas marketing department.
"Forgive us, Maria!" said ads from coffe manufacturer Zoégas in the fall of 2018. The company's founding story had until then focused just on her husband's (brief) contribution to the company. The researcher that 
rediscovered Maria and the marketing manager who saw good business in making the invisible visible share their story. 
15:30
Storytel
Rustan Pan­day, board chairman
Audio book company Storytel, founded 2005, owns Norstedts, founded in 1823 and Sweden's oldest book publisher. How do you balance old and new in the same group, while trying to grow the market for books in all their incarnations?  Storytel's chairman explains.
16:15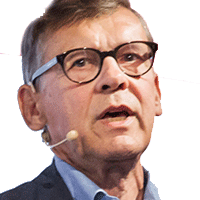 Anders Johnson, business writer and receipient of this year's Business History Award
How is the history of Swedish business depicted in books, movies and media? What types of companies, industries, and phenonema are normally highlighted – and which ones are forgotten? Anders Johnson has written over 130 books about Swedish business history and should know.  Award lecture from this year's Business History Award recipient.

17:00
Conference closing. Mingle dinner served in the foyer. 
When: 5 September 2019, 09.00-17.00 (Lunch and mingle-dinner included.)
Where: Nalen (Regeringsgatan 74, Stockholm.)
Price 3 900 SEK. (Is your company a member at the Centre for Business History? Then you only pay 950 SEK. Use the code HMSMEMBER in the field below.)
SOLD OUT. WE REGRET THAT WE
CANNOT ACCEPT MORE SIGN-UPS

.